Devastation of Sudan cities and town revealed in satellite images
Intense fighting in Sudan entered its third day as images released by PlanetScope reveal the scale of the violent clashes between the Sundanese military and rival Rapid Support Forces (RSF) battling for control over strategic locations in a number of Sudanese cities.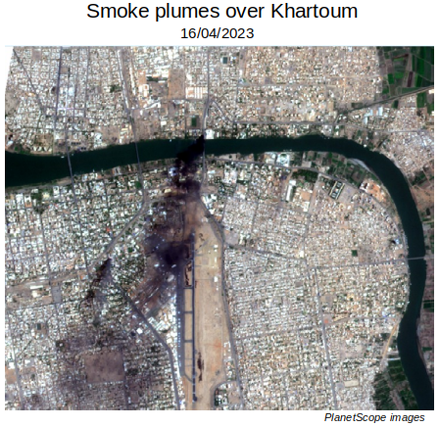 In Khartoum, images taken in April 16th 2023 showed plumes of thick black smoke rising above Khartoum international airport, the Army's general command, the Ministry of Defense, Ministry of Energy and Mining, Khartoum railway authority and Kober bridge as well as smoke arising above neighborhoods where Army air strikes targeted RSF bases embedded within them. Comparison to earlier images shows the extent of damage in different locations within the city.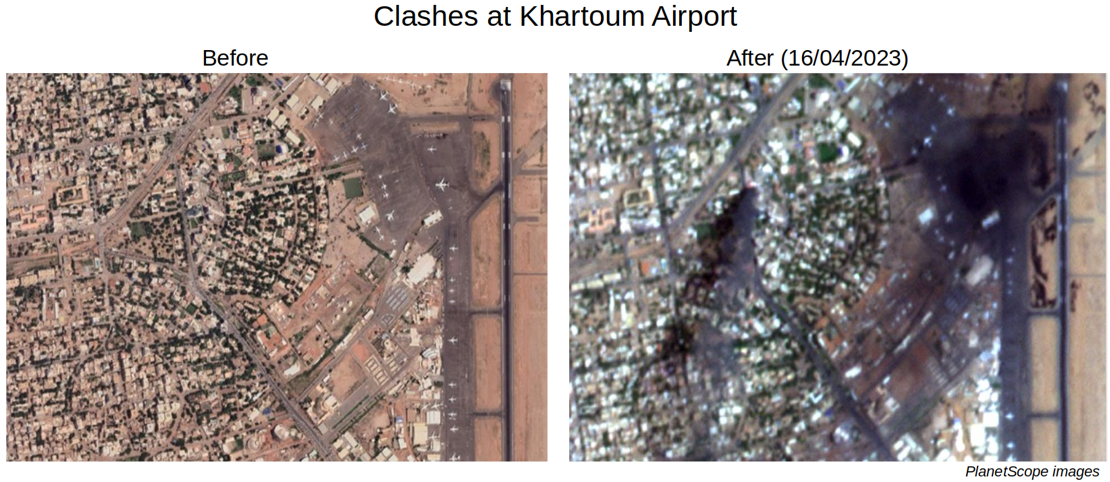 The before (Google Earth) and after images from Nyala and El Fashir also show similar devastation. In Nyala, the capital of South Darfur state, satellite shots show smoke arising around homes as a result of the violent clashes between the army and the RSF, in which heavy weapons were used. The images show smoke arising above Nyala international airport in the east and the military base in the west and residue covering a big footprint at the city center. The army asked residents of neighbourhoods within the city center, witnessing devastation clearly visible in the satellite imagery, to leave their areas for safe alternative locations.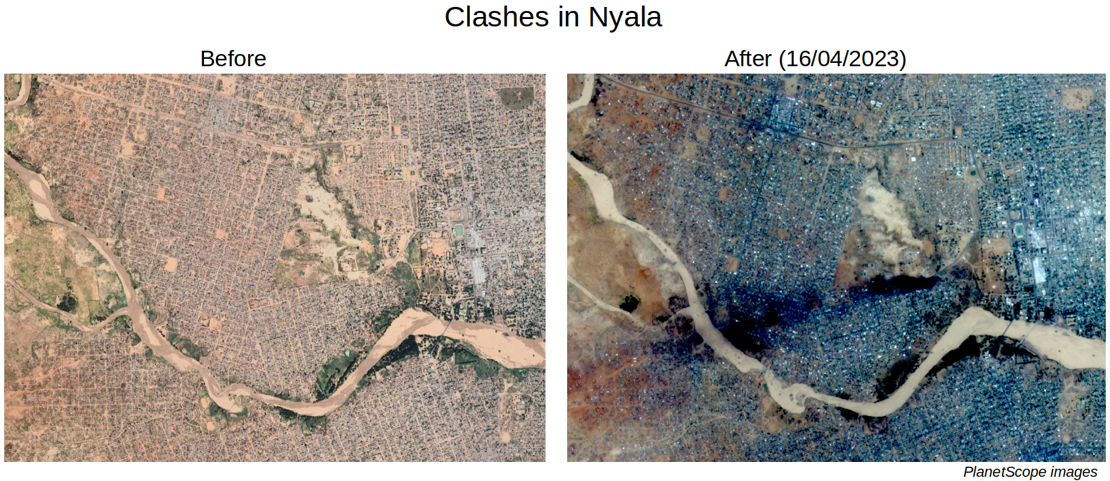 In the city of El Fashir, the capital of North Darfur state, PlanetScope images shows smoke arising from multiple locations around the city as a number of government buildings have been destroyed and many are continuing to burn.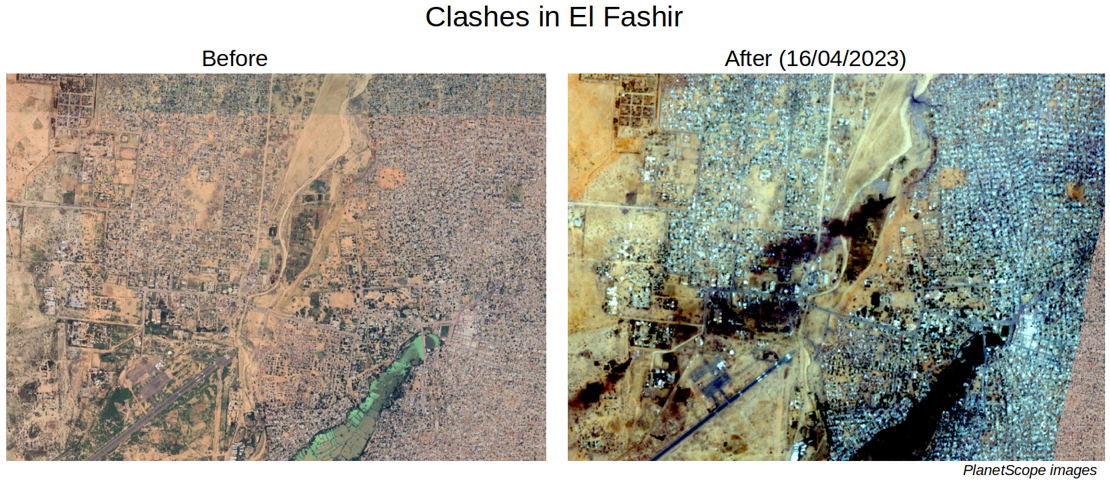 In all three cities artillery shells and gunshots can be heard and heavy weapons had hit residential neighborhoods resulting in a rising number of civilian causalities. "The problem shared among many Sudanese cities, is the presence of Military bases and even airports in very close proximity to residential areas." Most civilian fatalities were recorded in the capital city of Khartoum and Nyala.
The imagery from a distance, gives more of a perspective of the scale of the destruction and the devastation, It's more than individual casualties or several structures, it shows entire communities being affected.
New Updates from Night-Light Satellite Images (VIIRS) show the massive disappearance of night lights. Large parts of Sudanese cities are without electricity.  Areas without electricity are often indicating areas where other public infrastructure stopped working. In particular, many areas without electricity are also without water supply (Source: SUDTT).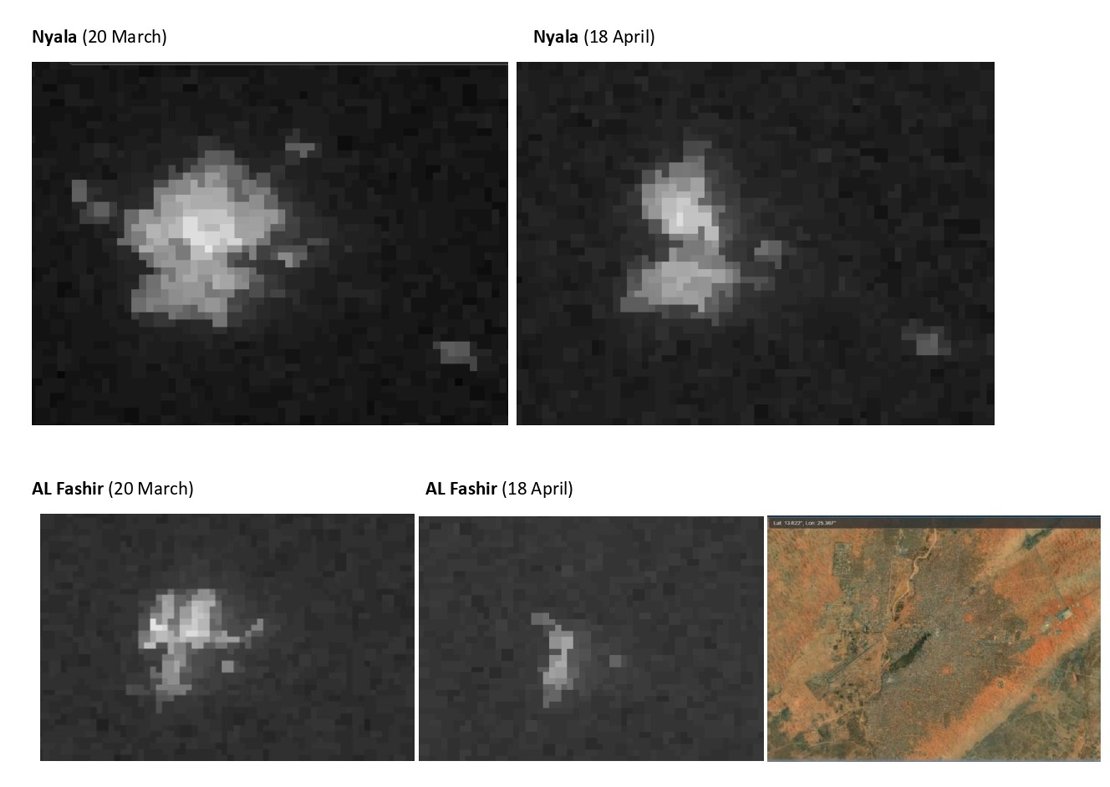 Updates show the massive disappearance of Night Time Lights (NTL) in Khartoum. Below the weekly average NTL for a week in March, and the first week of the conflict is shown. A wonderful city is losing its vital infrastructure, and inhabitants are suffering in many ways, including missing access to electricity, water, health care, food etc. Our thoughts are with our friends in Sudan, hoping that they are safe.